Human Traffickers Use Social Media to Lure Victims

Human traffickers worldwide are increasingly using social media to contact vulnerable victims. Human traffickers know how to search out a needy child or teenagers who may be insecure and wanting attention. The trafficker may appear to take a special interest in the child and tell them what they want to hear…this is called grooming.
Once limited to luring victims in the street, traffickers can now message thousands of people through Instagram, Facebook, Kik, Tagged and Twitter, with WhatsApp and Snapchat some of the latest tools in their arsenal. A trafficker may meet their potential victim on Facebook or other well-known site but ask the child to transfer their conversation to Kik or another less popular site.
"Astonishing statistics dug up by Thorn, an agency that studies technology's role in sex trafficking, found that sites like Craigslist are often used as tools for conducting business within the industry. Incredibly, 70 percent of child sex trafficking survivors surveyed by Thorn was at some point sold."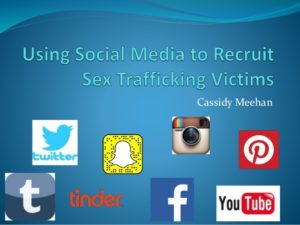 How Can We Monitor Our Kids?
Some of the most salient technological advances augmenting the work of those fighting slavery include:
https://www.forbes.com/sites/rebeccasadwick/2016/01/11/tech-fighting-human-trafficking/#53fda0ac6cac
As parents, we can keep the line of communication open without children and make sure they are aware of what to look out for as well. We can fight this, but we must do it together!