Human traffickers worldwide are increasingly using social media to contact vulnerable victims. Human traffickers know how to search out a needy child or teenagers who may be insecure and wanting attention. The trafficker may appear to take a special interest in the child and tell them what they want to hear…this is called grooming.
Once limited to luring victims in the street, traffickers can now message thousands of people through Instagram, Facebook, Kik, Tagged and Twitter, with WhatsApp and Snapchat some of the latest tools in their arsenal. A trafficker may meet their potential victim on Facebook or other well-known site but ask the child to transfer their conversation to Kik or another less popular site.
"Astonishing statistics dug up by Thorn, an agency that studies technology's role in sex trafficking, found that sites like Craigslist are often used as tools for conducting business within the industry. Incredibly, 70 percent of child sex trafficking survivors surveyed by Thorn was at some point sold."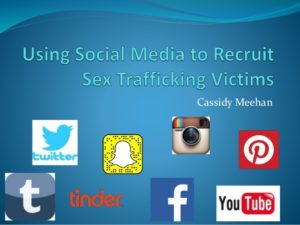 How Can We Monitor Our Kids?
Some of the most salient technological advances augmenting the work of those fighting slavery include:
The Spotlight tool which was introduced by Thorn: Digital Defenders in Spring 2014. Spotlight is available to law enforcement across the nation and is designed to aggregate data from online commercial sex advertisements. Law enforcement agencies using Spotlight have seen a 43% reduction in their investigation time.
TheDefense Advanced Research Projects Agency (DARPA)'s Memex program, which was launched in 2014 to combat human trafficking through an advanced search engine. Although this tool is not widely available, DARPA has fostered research that focuses on revolutionizing technology in the anti-trafficking space.
The National Human Trafficking Resource Center (NHTRC), operated by Polaris. This toll-free hotline assists victims and community members 24 hours a day, seven days a week in over 200 languages. The hotline services can also be accessed via email and an online tip reporting form. Polaris's Global Hotline Program also supports other countries looking to set up hotlines similar to NHRTC in the United States.
Microsoft's PhotoDNA, which aids in identifying images of children who are sexually exploited online. The PhotoDNA Cloud Service is available free of charge to qualifying organizations and has made monitoring illicit online ads more manageable for law enforcement.
The CyberTipline, which is operated by the National Center for Missing and Exploited Children (NCMEC). NCMEC serves as a mechanism for community members to report suspected exploitation of children. Since 1998, the tipline has received over 4.3 million tips.
In 2013, Polaris and Thorn partnered with Twilio and Salesforce Foundation to develop the NHTRC SMS-based text line; victims can text the shortcode "BeFree" for a discreet and time-efficient way to access the hotline.

Anti-human trafficking public service announcements (PSAs) developed by governmental and nongovernmental entities that can be easily accessed and circulated online. One of our favorite campaigns is MTV's Exit.
https://www.forbes.com/sites/rebeccasadwick/2016/01/11/tech-fighting-human-trafficking/#53fda0ac6cac
As parents, we can keep the line of communication open without children and make sure they are aware of what to look out for as well. We can fight this, but we must do it together!