Nextdoor is a unique social media platform that focuses on hyper-local communication by grouping connections into digital neighborhoods that represent the physical block each person resides. The community guidelines are well-intentioned but poorly interpreted even though they are written explicitly to avoid interpretation. Misinterpretation is most apparent in what a business can can't post and how they're supposed to post.

The following text is from the web page you're taken to after clicking "See more about this guideline."
Nextdoor members frequently want to know about businesses and services offered by their neighbors, but do not want to be overwhelmed by unsolicited marketing offers. Therefore, the following rules apply for members wanting to participate as a business on Nextdoor:

Allowed:

We encourage you to list your business or services on Nextdoor. Business and service listings are a great way to get the word out to your neighbors.

To list your business, you should create or claim your business page* on Nextdoor. This allows neighbors to easily find your business when they're looking for help or recommendations.

A business listing can be set up either by businesses or by individual neighbors offering services like babysitting, snow-blowing, or dog-walking.

You may add your business affiliation to the Biography section of your profile.

You may respond to requests for recommendations by offering your services like baby sitting, dog-walking, etc., as long as you are up front that it is you providing the service or that you are affiliated with the business you are recommending. See our policy on conflicts of interest.

You may let your neighbors know about job opportunities if the position is of particular relevance to folks in your community.

Not Allowed:

You may not make unsolicited posts about your business or service in the main newsfeed or via private message.

You may not announce commercial events to the main newsfeed.

To add commercial events such as real estate open houses or class schedules to the Events Calendar only, you must un-select "Announce to neighbors" AND select "Visibility: Allow anyone on Nextdoor to view or share this event." Learn more.

This entire guideline also applies to individuals who occasionally sell homemade or hobby goods, or who provide casual services for extra income.
I post the articles that are on the Insecurity Matters Blog on Nextdoor. The articles on this blog don't advertise the services of Ensurtec or even refer to Ensurtec as a company that provides services, but somehow posts are being removed for violating community guidelines.
In an email communication with Nextdoor.com help, I was told that my posts were unsolicited self-promotion.
An opinion is an unsolicited self-promotion if it's in the body of the original post like all social media posts are.
To dig deeper into what exactly unsolicited self-promotion is I asked what they meant, and I was told that because I'm the author, I can't post my own words. I can take an article from another author and post it, but I'm prohibited from my posting my articles. The purpose of Nextdoor is for neighbors to exchange information and that is exactly what I have been trying to do, but the failure of the moderators to correctly interpret the explicit community guidelines seems to be beyond the skill of the moderators.
Here are the emails from oldest to newest:
NOV 15, 2017  |  03:14PM PST
Roz replied:

Hi Ryan,

Thanks for reaching out to us about this situation.

I took a look at your reported content, and it appears that these posts were reported and removed because they were deemed to be in violation of our Business Promotion Policy.

You can read more about that policy here:

https://help.nextdoor.com/customer/en/portal/articles/2467454#business

Since you're the author of the articles, posting them on Nextdoor is a form of unsolicited self-promotion.

Nextdoor supports local businesses and encourages neighbors to share helpful information about their favorite businesses and services. However, you may not use your personal Nextdoor account to market or promote your business.

There are a couple ways you can mention your business or service from your personal account:

You may respond to requests for recommendations by offering your services

You may add your business information to your profile

Meanwhile, if you'd like to use Nextdoor for business purposes, then Nextdoor for Businesses would be a better fit. Nextdoor for Businesses allows you to see and respond to all comments shared with your business, update your business information and greeting message, and grow your reputation in the neighborhood.

To participate on Nextdoor as a business or service provider, you can claim or create your Local Page here.

Please let me know if you have any other questions.

Best,

Roz
Nextdoor

---

NOV 15, 2017  |  08:46AM PST
Original message
Ryan wrote:

Your neighborhood name: Bellevue
Description of content:

Three of my posts have been falsely reported. The community guidelines are being wielded like an ax by a member to harass me. Which member I do not know. I imagine there is an internal protocol to flag members that report posts too often.

This message was sent to rlm9914@gmail.com in reference to Case #: 1701364.

Ryan Miller
Subject: Abuse of Community Guideline Authority

NOV 17, 2017  |  03:57PM PST
Roz replied:

Hi Ryan,

I apologize for taking a while to get back to you.

Since it appears that https://ensurtec.com/ is a business, and you're posting articles that you've written for that business, your posts are considered a form of self-promotion.

You can read about our Conflicts of Interest policy here:

https://help.nextdoor.com/customer/portal/articles/2467454?b_id=98#coi

If you are not an employee or owner of ensurtec, then I do apologize for any misunderstanding.

If you are an employee or owner of ensurtec, then please claim your local business page by going here:

I really appreciate your cooperation in this matter.

Best,

Roz
Nextdoor
I've encountered more vitriol than I ever have no Facebook and Twitter combined by merely discussing what the community guidelines say.

---

---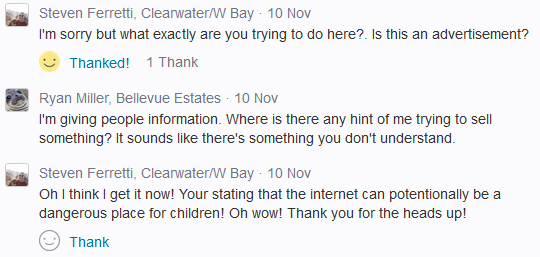 ---